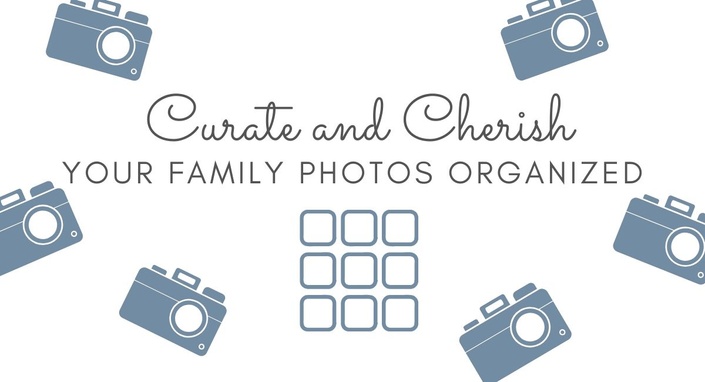 Curate and Cherish
Say goodbye to photo clutter and organize your family photos, once and for all!
Do you feel a deep sense of overwhelm when you think about the thousands of photos you have of your family?

Don't know where to start with ALL the photos on your phone?
Do you have boxes, never completed scrapbooks, and other piles of precious photos begging for your attention?
Do you feel guilty that you never print your images or keep photos of loved ones stored in dusty shoeboxes?
I hear you!
That's why I created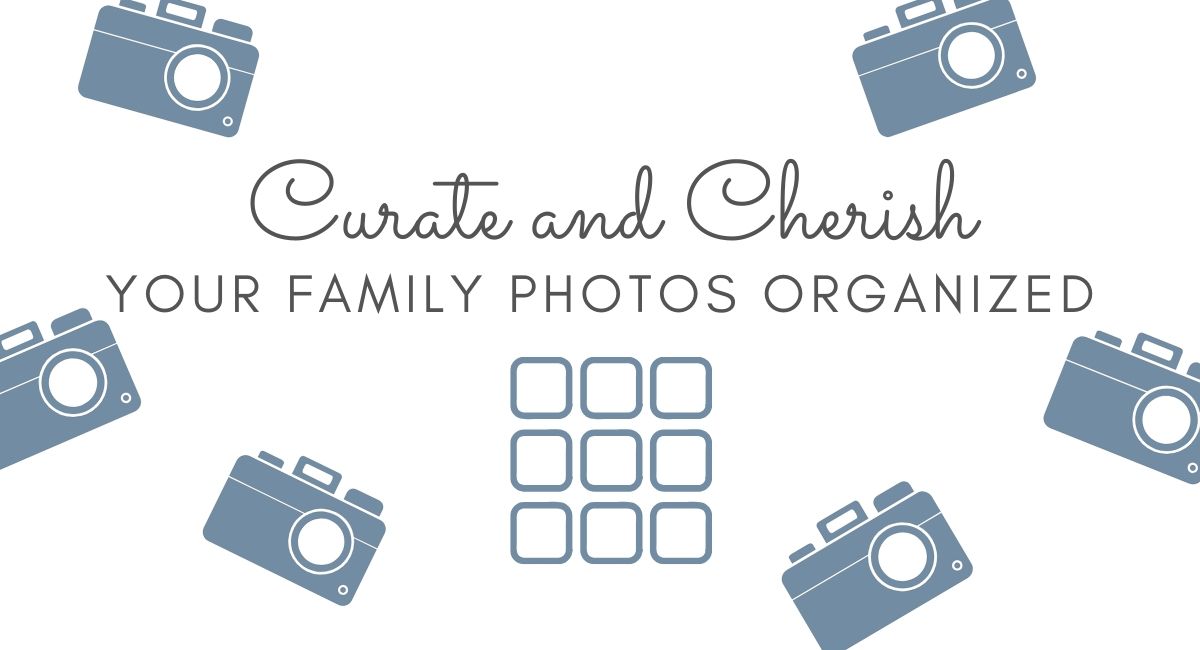 The step by step system to help you curate and organize your physical and digital images so you can actually appreciate them!
With the ease of snapping photo after photo on your phone, managing the endless files can be incredibly taxing.
Living with thousands of photos on your devices, with the fear that you're never going to do anything with them, or worse, you'll break or lose your phone and they'll all be gone, adds a lot of underlying stress to your life. For many of us, these are our most precious possessions. Photos of loved ones who've passed, Our babies as they've grown, the houses we lived in and photos of us from our glory days.
On top of all those digital photos, you also have cd's, hard drives, photo albums, and printed images.
Gone are the days where we take a handful of photos of each event on a roll of film. Now we take hundreds of photos on a camera we can keep in our pocket!
What are you supposed to do with all those photos. You can't just throw them out, but looking through them all feels terrifying.
Friend, you're not alone and I have the perfect solution for you!
I created this simple, step by step system out of my own frustrations.
I've always loved photography. Pair that with having three perfectly cute models, and I've racked up more gigs in photo storage than I want to admit. Add the thousands of photos I take for my clients and it was a photo nightmare.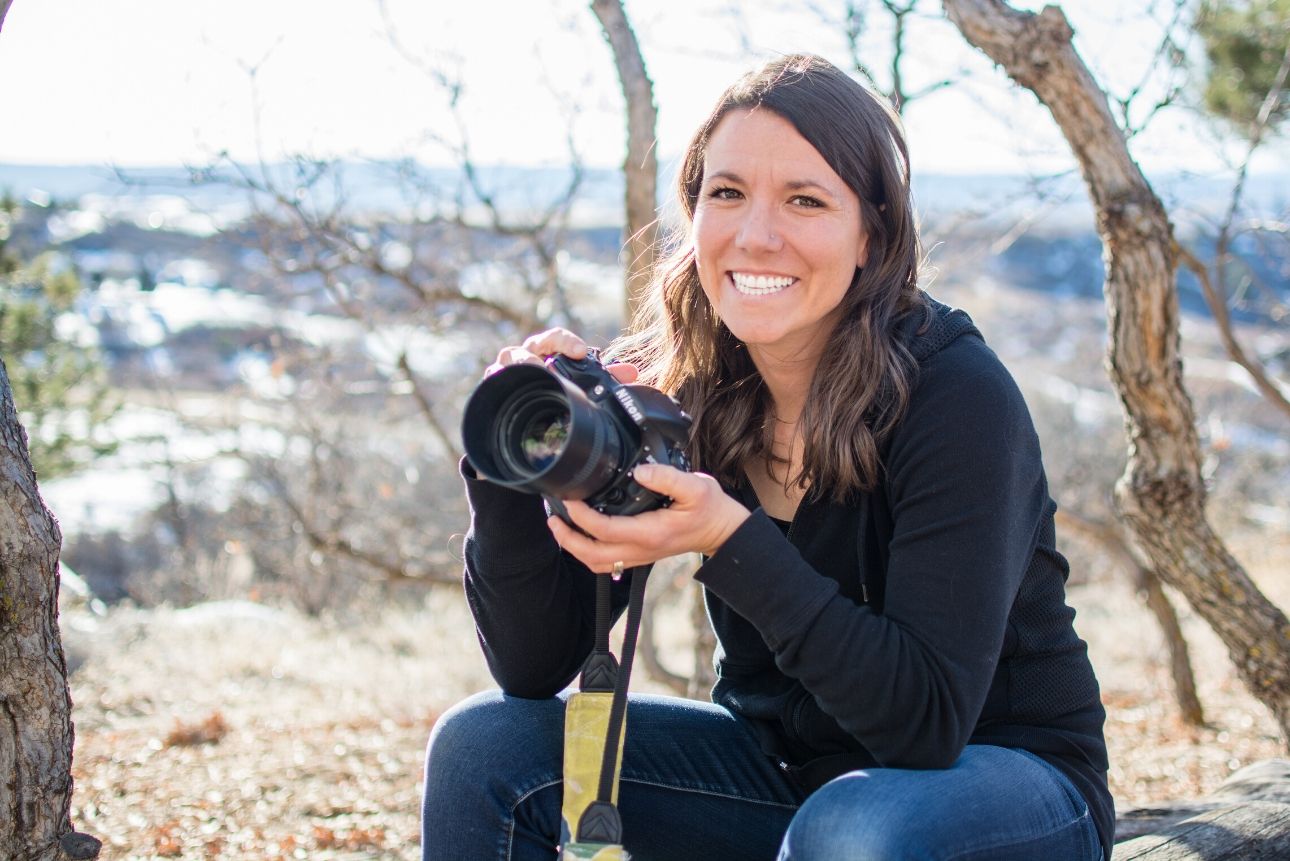 Here's what I know: YOU are capable of decluttering and organizing all your family's photos no matter how many you have.
You just need a step by step approach that makes it manageable and even FUN!
This gets me so excited! Just think about it!
You could have gorgeous photos to hang on your walls, share with friends and family, and create family yearbooks you'll treasure forever.
You could have a system that makes it easy to find the photos you are looking for rather than scrolling for hours, hoping to find one you can use.
I've broken each step down in this course to show you how to curate, organize, and cherish your family photos once and for all.
You'll move quickly through the course and create a plan of action to help you maintain this system moving forward.
You'll be designing family yearbooks, showcasing your favorite photos, and sharing them with all your loved ones in no time.
A little snapshot of what's inside:
Learn how to get through all your printed and digital photos and decide what to keep and what to toss.
Learn my simple strategy for keeping all your digital photos easily accessible so you can always find the photo you're looking for.
Learn how to organize your photos, both digital and physical, so you can enjoy them, rather than store them out of sight.
Relieve your anxiety that comes from having unorganized family photos in your home and on all your devices.
Create a plan to maintain your system so you never have to face thousands of unorganized photos again.
It's time to take action!
Do it for you, for your kids, and for the future generations who will cherish these photos! Give yourself the relief of knowing your most cherished processions are organized and safely stored. Make it easy to find and print your favorite images so you can share them and showcase them in your home!
You can do this and I would love nothing more than to do it with you!

Frequently Asked Questions
When does the course start and finish?
As soon as you enroll, you'll have access to all the lessons in the course. It is a completely self-paced online course - you decide when you start and when you finish.
How long do I have access to the course?
How does lifetime access sound? After enrolling, you have unlimited access to this course for as long as you like. You'll even get any future updates I make to the course!
What if I am unhappy with the course?
I would never want you to be unhappy! If you watch the training videos and realize this isn't what you need, contact me in the first 14 days and I'll give you a full refund.
What if I have other questions?
I'm happy to help! If you need help deciding if this is the right course for you, just send me a quick email at
[email protected]